Dagens øl må jeg innrømme var litt kjedelig. Selvom det tross alt er en av de lokale øllene, var den litt for lys etter min smak. Litt for mye vannsmak.
Sikkert greit på et hot dag på stranden, men hjemme etter en bedre biff-middag ble det hele bare vannnnn.
Wiki:
Canarias Brewery

The Canarias Brewery was formed in 1994 from the merger of two Canary Island breweries, CCC and SICAL, both of whom had been established at the start of the 20th century.[7] The brewery produces the beer brands, Dorada and Tropical,[8] and brews under licence various global brands, such as Carlsberg, Pilsner Urquell, and Guinness.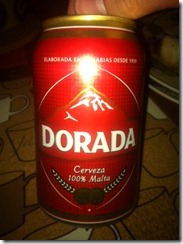 Karakter 5/10