Monday, January 30th, 2012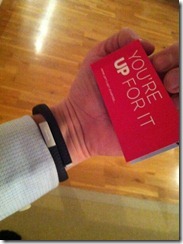 Da jeg første gang så reklamen for UP bestemte jeg med en gang for at jeg skulle ha en slik.
Ukene og månedene gikk. Jeg maste på e-post og twitter om lanseringsdato og Jawbone kom endelig med en dato. Straks datoen kom var jeg klar, men lanseringen ble utsatt.
Året etter kom den endelig på markedet og jeg bestilte raskt. Kostet meg i underkant av 1000 kroner med all frakt o.l.
Dessverre levert av DHL som leverer på dagtid (hvor teit er ikke det?) når ingen er hjemme, men heldig for meg kom de tilbake på kveldstid slik at jeg slapp å hente den selv.
2. desember hadde jeg mitt eksemplar (bildet) og jeg benyttet den flittig en uke før følgende melding kom fra Jawbone:
The UPâ"¢ No Questions Asked Guarantee
This means that for whatever reason, or no reason at all, you can receive a full refund for UP. This is true even if you decide to keep your UP band. We are so committed to this product that we're offering you the option of using it for free.

The program starts December 9th and full details can be found at http://jawbone.com/uprefund.
3 dager etter dette fra Jawbone sluttet min å virke og jeg sendte inn og fikk masse tilbakemeldinger om at jeg bare kunne sende serienummer, oppgi hva som var galt og få pengene tilbake OG en ny UP nå den var tilgjengelig. Litt Klabb og Babb ifm. US og UK store, og fomling i hvem som skulle håndtere min uprefund, men det ordnet seg etterhvert.
Utrolig bra av Jawbone og tilby en slik kampanje, selvom jeg i skrivende stund ikke har fått noen penger. Har derimot fått ny UP og her kommer min erfaring med den:
– EAT-Up er et litt morsom navn, men ellers bare tull da denne delen av appen kun lar deg ta bilde av det du spiser og etter en time blir du spurt hvordan du føler deg. Ikke noe om fettinnhold, kalorier, mengde eller annen info. Bruker ikke denne delen av appen nÃ¥.
– Sleep-funksjon er bra og brukes hver dag. Morsomt Ã¥ se nÃ¥r man sover lett, tungt og nÃ¥r ma ner vÃ¥ken. OgsÃ¥ denne delen av app skulle har noen forbedringer. F.eks. NÃ…R man sovnet (klokkeslett og hvor lang tid man brukte Ã¥ sovne).
– ArmbÃ¥ndet er litt stort og det var i begynnelsen litt uvandt Ã¥ ha den pÃ¥ armen nÃ¥r jeg satt pÃ¥ jobb med PC. Kunne ikke ha den pÃ¥ høyre arm pga. mus, musematte. Ble bare i veien der.
– 8. des testet jeg UP mot Runkeeper – resultat.
Alt i alt en artig gadget jeg fortsetter å bruke. Savner trådløs overføring av data og mer LIVE tilgang i app, samtidig som jeg synes Jawbone burde vist all info som jeg ser i appen på en webside med login også (akkurat slik Runkeeper gjør). Men det kommer trolig etterhvert om man skal tro Jawbone.