September 12th, 2011 | by morten.knudsen |
Etter at jeg "jogget pÃ¥ meg" (kan man si det?) en vond ankel 13/7 har jeg vært hos tre leger. Samtlige har sagt at det bare har vært en skade som gikk over av seg selv. Etter nesten to mÃ¥neder uten mulighet til Ã¥ jogge, og med en fot som hovner opp etter taekwondoen, ba jeg om rekvisasjon til MR.
På fredag fikk jeg CDen av ankelen og spøkte med konepone om at det for meg så ut som et brudd – noe jeg selvsagt ikke trodde Har jo ikke SÅÅÅ vondt!
Da jeg i dag fikk en telefon fra legen (som hadde sett de samme bildene) med beskjed om å møte opp på Oslo Legevakt i morgen tidlig fordi jeg hadde et brukket ben, begynte jeg nesten å le.
Joda, de konstanterte et brudd og hadde bestilt time til meg allerede i morgen. Nå er det bare å grue seg til hva de skal gjøre der nede.
Her er et bilde der jeg mente det var brudd, men dette har jeg IKKE greie på.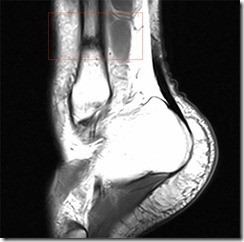 Info om ankel:
Ankelleddene er meget utsatte for skader fordi de er ganske bevegelige og belastes med hele kroppens tyngde. Leddet utgjøres av fire ben: skinnbeinet (tibia), leggbeinet (fibula), hælbeinet (calcaneus) og ankelbeinet (talus). Ankelleddet stabiliseres av ankelgaffelens form og leddbÃ¥nd pÃ¥ innsiden (medialt), utsiden (lateralt) og mellom de to leggbeina (syndesmosen – et bÃ¥nd som binder sammen de to beina).
Tags: ankelbrudd